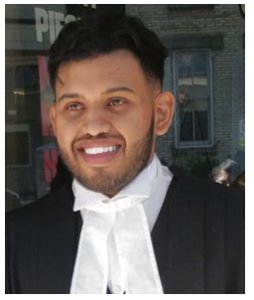 Shreyas is a partner at Ferguson Moorti Law Professional Corporation since its recent inception in 2019. Shreyas attended the University of California, Berkeley – Boalt School of Law, where he completed his legal education with a Master of Law degree. Prior to that, Shreyas attended the University of Buckingham, where he received his Bachelor of Laws degree.
Shreyas was called to the Bar of the Law Society of Ontario in 2018. Shreyas completed his articles at Ferguson Law. Since being at FMLPC, Shreyas has developed a large and diverse practice, practicing in the following areas: Civil Litigation, Commercial & Residential Real Estate Transactions, Criminal Law, Estate Litigation, Estate Planning & Wills, Family Law, Landlord & Tenant Litigation, Provincial Offences Litigation, Real Estate Litigation and Small Claims Litigation.
Prior to moving to Manotick, ON in 2013, Shreyas resided in London, UK. While Law is his passion, Shreyas has passed his Level 2 Examinations in his Chartered Financial Analyst examinations and aims to continue on this journey in his free time. Shreyas is also an avid sports fan and enjoys spending time with his friends and family.
Education
University of Buckingham – Bachelor of Laws
University of California, Berkeley – Master of Laws
Federation of Law Societies of Canada – Certificate of Qualification & Accreditation
CFA Institute – Level 2 Examinations for Chartered Financial Analysts
Memberships
Law Society of Ontario
County of Carleton Law Association
County of Lanark Law Association
Criminal Lawyer's Association